If you're looking for a lesser-known place in Ireland that's packed with historic sites and breathtaking landscapes, then Carlow should be on your bucket list. 
Carlow is also called "The Dolmen County" since it is home to the Brownshill Dolmen, a megalithic portal tomb dating back to the Bronze Age. Aside from the iconic dolmen and other notable prehistoric sites, Carlow is also a perfect base for seeing Ireland's captivating natural beauty. The leafy countryside boasts its towering mountain ranges, winding rivers, gorgeous gardens, and tranquil lakes, providing a postcard-worthy backdrop. 
And if you're searching for a place to stay in a leafy town with an old-world charm, a standard modern chain hotel might not be a perfect fit. You want to stay in a place with an old-world charm, preferably somewhere that's set in a picturesque and historically significant location. Luckily, Carlow has a wide array of charming lodging alternatives that'll connect you better to the Irish landscape and its rich cultural heritage. 
From rustic farmhouses to 18th- century Tudor-style homes with a scenic view, check out these fascinating accommodation options in Carlow, Ireland. 
1. Country Homes and Farmhouses
Looking for a peaceful accommodation tucked away from the bustling city? Perhaps staying in a charming country home sitting on acres of woodlands would interest you. Carlow has a couple of country homes and farmhouses in an idyllic setting.
Coolanowle Country House is one of them. Enjoy its quaint interiors with charming rooms overlooking the sprawling lawns. Since the country house sits on a working organic farm, your food, from your filling breakfast to your afternoon tea, is made with healthy and organic ingredients. 
2. Small and Homey Bed and Breakfasts
Bed and Breakfast is another homey accommodation option. B&Bs are smaller lodgings, often situated in residential areas. As its name suggests, breakfast is included in the rate and it's not your usual toast and tea —it's hearty, filling, and made with high-quality local ingredients and artisanal goods. 
One top-rated B&B is the Avlon House Bed & Breakfast. This humble, five-bedroom townhouse is just a few minute's walks from Carlow Town center. Outside, there's a log smoking cabin and patio area with a barbeque.
3. Hotels with a breathtaking natural backdrop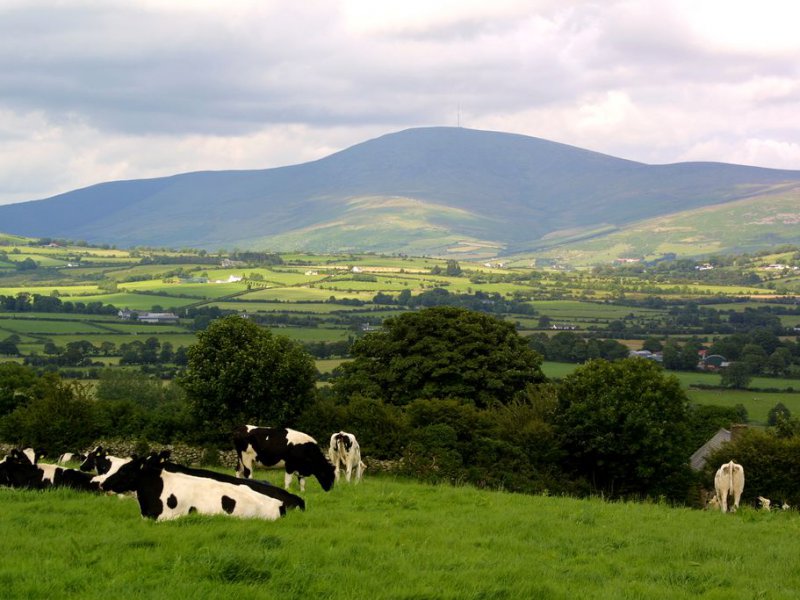 Still, looking for a hotel-like experience in Carlow? Whenever possible, look for a hotel that offers something more than an elegantly furnished suite. We're talking about staying in a property that'll give you the easiest access to Carlow's breathtaking natural views and historic sites.
You know a hotel in Carlow is the best choice when you don't have to travel via car to see a picturesque attraction —instead, the hotel itself is perched on an awe-inspiring estate. You can find hotels in a heritage village or at the foot of Mount Leinster & The Blackstairs Mountains. 
4. Castles
Ever dreamed of sleeping in a castle for a few nights? You can turn that dream into a reality in Carlow. 
Let's start with Huntington Castle and Gardens, which is in the heart of the pretty village of Clonegal. The historic 1625 castle isn't just a spot for sightseeing — it has a few accommodation options too. You may either lodge in the castle itself on a B&B basis or lodge in one of their self-catering properties. Whatever accommodation you choose, you'll have the privilege to enjoy the castle's amenities, gardens, and estate. 
5. Historic manor houses with an old-world charm
How about staying in an elegant manor house built in the 18th-century? Carlow is home to period houses turned hotels. These homes are elegantly decorated with antiques, family portraits, and memorabilia, taking you centuries back. They're also sitting in pastoral surroundings, giving you the best Irish countryside experience. 
One example is Sandbrook House and Gardens, a period Queen Anne-style house that offers picturesque views of Mount Leinster and the Wicklow Mountains. Another historic house to check out is the Lorum Old Rectory. The historic luxury manor dating to 1863 is nestling beneath the Blackstairs Mountains, midway between Bagenalstown and Borris.
6. Rustic self-catering cottages
Looking for self-catering options? In Carlow, you can find attractive cottages you can treat as your temporary home whilst in a rural setting. 
Do you love hill-walking, mountain biking, kayaking, and other fun outdoor activities? If so, the rustic pine cottages of Mount Brandon Self Catering Cottages make a perfect holiday accommodation for you. If you're not fond of the outdoors, you can simply relax and enjoy the views of the Barrow Valley landscape, the Blackstairs mountain range, and Brandon Hill. 
Also Read: https://dailydialers.com/business/pest-control-is-needed-in-hotel/
7. Shepherd huts
If you want a close-to-nature escapade but camping isn't your thing, you might want to check out Blackstairs Eco Trails Shepherd Huts. Each traditional hut comes with a comfortable double bed, some vintage furniture, lights, and heating. There's a barn space on the grounds, converted into a shared space complete with a toilet and bath, kitchen space, and dining table.