When you are using a system for a long time now, it wears and tears down itself and doesn't perform as expected before. Well, there could be other reasons why MacBook Pro is running slow including old specifications, hardware glitches, and failure of components or software not working as expected as it should. Apart from them, if your hard drive doesn't have enough space or heavy applications are running in the background, MacBook Pro loses its speed.
There are chances that you might be thinking about replacing your system but wait before you think about it or look for any other solutions, it's time to note a solution.
Smart Mac Care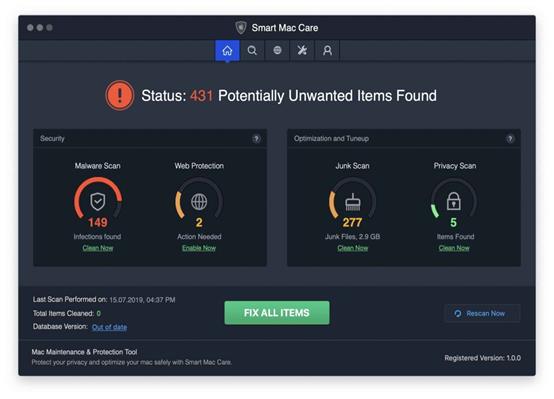 Running Smart Mac Care on the system easily removes the junk, repairs the system hogging files, or keeps you safe from malware. It also helps in uninstalling unwanted programs, duplicates, cache, or login items which make the system run faster and free of negativities. Saving the browser's privacy, scanning out unused files, and removing failed downloads are some of the amazing advantages of keeping Smart Mac Care in the Mac.
How To Solve The Issue Of MacBook Pro Running Slow?
1. Activity Monitor To Find Memory Hogging Apps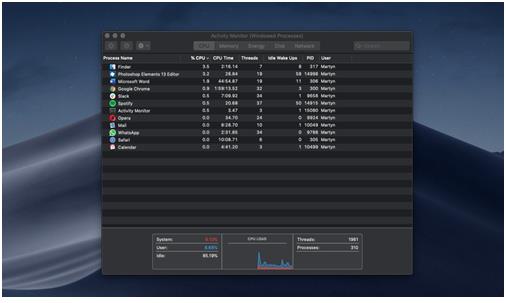 We fail to realize that some apps are hogging up the memory more than others and eat a fair share of system resources. If you are willing to find out about them, go to the Utilities folder and open Activity Monitor.
This Activity Monitor details out all the processes on the Mac. Here, go to the CPU button and find out all the programs that are consuming the speed of your Mac. In fact, you can also find out Memory, Disk, and Network in order to figure out ongoing processes.
2. If Available Storage Space Is Enough
When your hard drive is full, the MacBook Pro running issue comes in between and you do not even figure it out. No matter how much space is there in your system, it is recommended to leave 20GB of space or more free from any usage.

Go to Apple menu > About This Mac > Storage. Here, you can find out what is taking so much space in your system and can you remove extra items for future use.
3. Stop Programs From Starting By Itself
Does it happen with you that as soon as you open your system, many programs pop up by itself and consume all the resources that are necessary to quicken up the process of slow MacBook. Open System Preferences > click Users & Groups > go to Login Items and find out all the programs that open up by itself.
Select all the icons that you don't want to start at the beginning and click on the delete button available at the bottom of the list.
Also Read: Android Spy Software: Why we need to Monitor Teens?
4. Update Out Of Date Software
When the software is updated, MacBook Pro running issues get subsided for better results. Even the smallest update can improve battery life problems, bugs, and security problems. So if your next question is how to update the software on Mac, here's how!
Go to the Mac app store in order to update all the applications downloaded from here. Although you must keep updating your apps every now and then by visiting System Preferences and automatically updating them.
5. Empty Cache & Login Items
Like explained above, Smart Mac Care is meant to clear out all the redundant files in one go. As you let this tool scan out all the possible problems in the system, it offers you to 'Fix All Items'. Once you click on the same, cache and login items would be all removed in one go and the system gets free from the cache and other items on others. In fact, you should make sure that Trash is being emptied out by dragging away all the items from here.
6. If There Are Hardware Problems
If your hardware is acting faulty and the lagging issues are coming from here, you can test the machine with a few simple tricks. Go to Applications > Utilities > Disk Utility and find the disk and its partition. Select the specific drive and click on the 'First Aid' button. As the green tick appears here, it shows that the drive has already been checked.

Now go to the S.M.A.R.T. section and see if the status comes out to be 'Verified'. However, if there is any other status option other than Verified, you may have to accept that there are some hardware issues lingering in the system and a quick run to the Apple Store is required.
Also Read Best Ecommerce Development Solutions you Should Know in 2020
Conclusion
If your MacBook Pro is running slow and you are trying to figure out all the reasons and solutions, the above methods would definitely help you to free yourself from the circle. In case, your system is still showing lags and hanging more than required, you may need to visit the official Apple store and figure out the replacement of your old one with a new one.