Do you have a keen interest in playing car racing games? Or are you looking for the best car drifting games to have a seamless and thrilling experience? If yes, then this blog is for you. From Sky Car Drift to CarX Drift Racing 2, and Drift Max Pro, in this blog, we have discussed various drifting games to let you explore the new world of car gaming.
So, without further delay, let's get started.
Best Car Drifting Games Like Sky Car Drift You Must Play
Are you someone who likes speed and thrill? If yes, then we recommend you play Sky Car Drift. Sky Car Drift is a thrilling and exciting car drifting game where you need to compete drifting against other competitors on an exhilarating track over the clouds. The main goal of the game is to seek the longest drifts without smashing or falling off the rim and gain valuable awards and trophies.

Gather as many trophies as you can to access a variety of exciting and cool rewards like cars, drivers, emotes, and skies. That's not all! The game offers you the flexibility to climb the ladder of trophies to showcase your talent and earn unique titles. There are various categories where you can compete. Aim to get ahead of every rival, reach the top of the scoreboards, and secure your position in the prestigious hall of fame.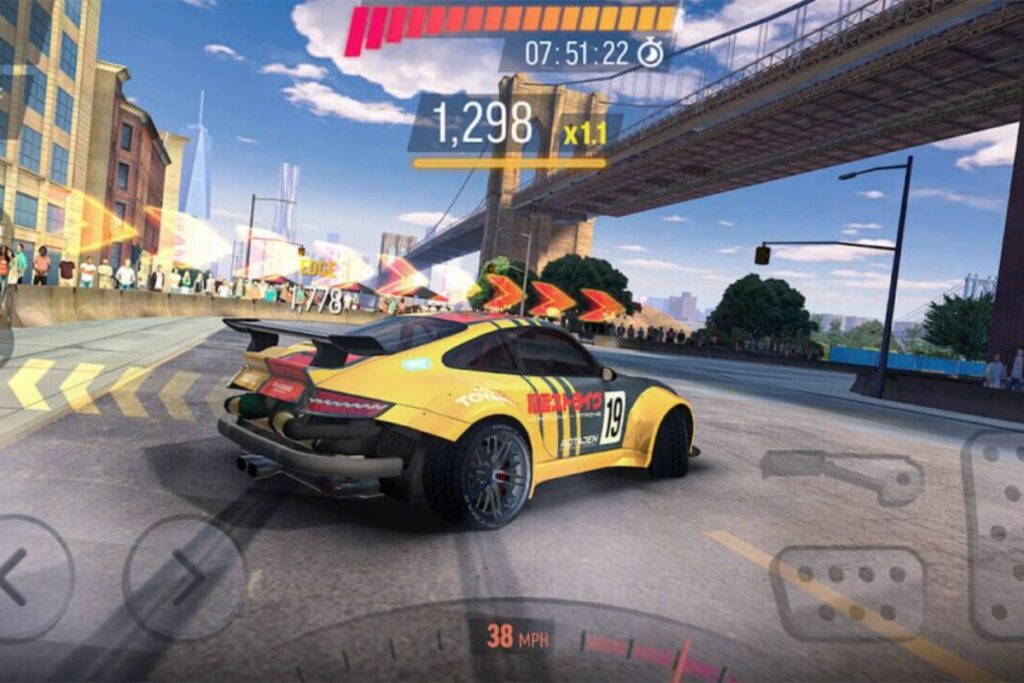 While playing Sky Car Drift, you will come across various cool features and animations, thereby providing a seamless and interactive experience to players. From appealing themes to interesting tracks, and great features, all make Sky Car Drift a great game to play. Over a short period of time, the game has earned immense praise and popularity in the gaming industry. You can even see the gameplay video on YouTube to get a better idea of how to play this game like a pro and even learn about its exciting features.
So, are you ready to conquer Sky Car Drift?
CarX Drift Racing 2 
Just like Sky Car Drift, CarX Drift Racing 2 is another insanely popular drift game that has taken the internet by storm. The 2GB game has everything that can take your car drifting experience to another level.

Loaded with a lot of features, the game offers you the Visual Auto Tuning option to change lights, mirrors, bumpers, and other parts of your car. Further, you are free to create a distinct image of your vehicle using rims, body kits, and more. Additionally, you can adjust the air pressure of the tire and tune the brakes, engine, gearbox, etc. The game is full of unique features that can excite any game lover. This includes 
Get access to console-level graphics

Use a drone camera to see any player in the competition 

A huge garage with over 65 drift cars that you can buy and tune 

Interesting multiplayer mode with the flexibility to choose any location and set a drift race with your buddies or players around the world


Drift Max Pro
With more than 50 million downloads, Drift Max Pro is one of the most popular and downloaded drift games played by millions of people around the world.
From amazing drift graphics to thrilling racing tracks, and the smoke coming from the cars, the game has everything to experience a real drift game. One of the most appealing features of the game is that it allows you to choose from multiple racing locations, including New York, Tokyo, and many more.
The best thing about the game is that it can be played offline without the need for any internet connectivity. Yes, you read that right!
In case you are looking for a perfect offline drift game for Android, Drift Max Pro is a go-to choice. While playing the game, you can even set the camera at different angles to see different views.
CarX Drift Racing
Are you looking for a game that requires a small space? If yes, look no further than CarX Drift Racing. Having a size of less than 500MB, CarX Drift Racing is an excellent game for anyone who likes drift games. With over 50 cars and 13 great drifting tracks, the game is suitable to enjoy a drift race competition. To make drifting a little easy, you even get a separate handbrake to make drifting smoother and easier. 
The game also allows you to choose various setups for every vehicle, customize your handling system, or change the color of your car.
Apart from the above, there are many more car drifting games like Drift Max City and Real Drift Car Racing Lite that you can enjoy playing in your free time.