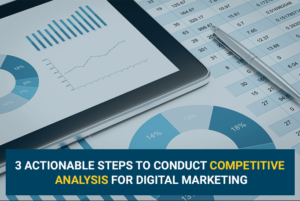 In this present era, the success of your company for today and the future is only determined by the effectiveness of your online presence. Thus, to be ahead of the competitors, it is vital that you develop a comprehensive digital marketing strategy and plan your online marketing efforts to ultimately help expand your business.
You can take a close look at the Digital Marketing Tactics survey conducted by GoodFirms with the help of 100+ online marketers. Here you will know the most challenging yet effective set of tactics for generating more leads and growing your business.
In digital marketing competitor analysis is a tremendously multifaceted undertaking, looking not only at a competitor's website, but their presence everywhere on the web, the actions they are undertaking, and the techniques they use.
The main focus of competitive intelligence is to enlighten and authenticate your marketing strategy to stakeholders. Hence, make a point before you start performing competitive analysis to set the best and effective online marketing strategies for your business.
Below are a few steps to execute the competitive analysis for digital marketing:
1. Pick the Right metrics:
Many marketers find it challenging to identify the right marketing Keyword Performance Indicators (KPIs) and statistics to track their performance. The best key metrics for competitive analysis includes:
a) Audience Growth:

Make a point to track the follower's growth on your business's social media channels to determine the increase and decrease in your brand's digital audience. Here you also need to benchmark how much traffic is reaching against competitors to spot out where your business in competition is having a greater impact and improve brand awareness.

b) Content Distribution:

You need to optimize that your competitors are posting more or less frequently than you are. Here you can analyze their distribution strategy, that is what time they are choosing to get the audience's attention. By considering all these things you can schedule when and what time to distribute the content.

c) Content Engagement:

It is essential that you track the number of interactions you have received through each piece of content. This will give you an idea of what your audience is really interested in. You can also compare the distribution and engagements you and your competitors have obtained. Through this, you will come to know the effectiveness of your content strategy versus your competitors.
2. Focus on the Right Marketing Channels:
It s significant that you focus on both core and emerging channels to make people aware of your online presence. There are multiple numbers of channels that are assisting the business to interact with their target audience. Some of the best online marketing channels are Email, Blog, search, Facebook, Instagram, Linkedin, Pinterest, Twitter, YouTube, earned media, website traffic, and many more.
3. Choose the Right Competitor:
To analyze who your competitors are you have to perform a competitive website analysis by entering your services on Google and if there is anyone standing above you with a good rank offering the same services as you are, then he is your competitor. Once you get to know your right competitor you can benchmark their marketing performance, industry influencers, and other activities by following them.
Conclusion:
After you accomplish and once you collect your competitive intelligence, you can start executing your strategies in which you're lacking behind and improve on them to overtake your company's competitors. If you are in search of an experienced and highly skilled online marketing team, here at GoodFirms you can get connected with the Top Digital Marketing Companies that are listed based on delivering optimal solutions to all sizes of businesses to attain their business goals.