Today, finding a COVID-19 vaccine slot for yourself is one of the most challenging things to do. Even if you end up finding one, it only takes a few minutes to see that disappear into unavailable too. As such, many people are still left unvaccinated, which can be highly detrimental to their health. Although the Arogya Setu app is a promising vaccine slot finder app, it fails to meet people's demands all the time. That is why researchers and tech experts have come up with a list of the latest COVID-19 vaccine slot finders that are quick, promising, and useful. If you are also waiting to see which ones they are, read this article until the end. You will find it helpful.
1. Paytm Vaccine Finder 
Recently, Paytm launched its vaccine slot finder on the app that has promised to make everyone's life a lot easier. The app founder Vijay Shekhar announced it on Twitter and launched it on both iOS and Android devices. If there are no slots available at all, Paytm also allows people with the option to practice vaccine slot booking for later. So, you do not have to face any inconvenience at all. All they do is take the relevant data from CO-WIN and stand for COVID Vaccine Intelligence Network. So, you can make the most of it without any hindrance.
2. Getjab.in
This is another helpful vaccine slot finder app specifically designed for this purpose. All you have to do is fill up a form that asks about relevant information to help you find available vaccine slots. If you are under 18 to 45 years, you are bound to get a space open with them. Make sure you enter your email, register your name and provide your district too. Your phone number can also be instrumental when in need. You can do this via a message.
3. FindSlot.in 
This app also works like CO-WIN. You have to use it as a vaccine slot alert app and find available slots using diverse pin codes. Although it is resolving some technical issues right now, it can be helpful too soon for you. If you are facing any errors with the app, the app developers are also available to help you on Twitter. So, make sure you make the most of it without any second guesses.
4. Under45.in
This vaccine slot finder app can come in handy when you book a slot based on your district. It is pretty similar to Findslot.in. So, if you are around 18 to 44 years old, you can make the most of this one. However, remember not to enter any personal details in the app as it does not ask for any. Also, do not forget to look at the list of available vaccine slots it has to offer to you in need.
5. Vaccinateme.in
One of the best and most-mobile friendly vaccine slot notifiers, vaccinateme.in is all you need. It is created by the website HealthifyMe and allows you to search for the best vaccine slots without any hindrance. Although the government does not make these websites, they can be beneficial for you. That is why we ask you to download them on your phone and see the difference for yourself. When the app has an available slot, it notifies you on WhatsApp. So, you do not always have to keep opening the app and checking if it has one slot available for you.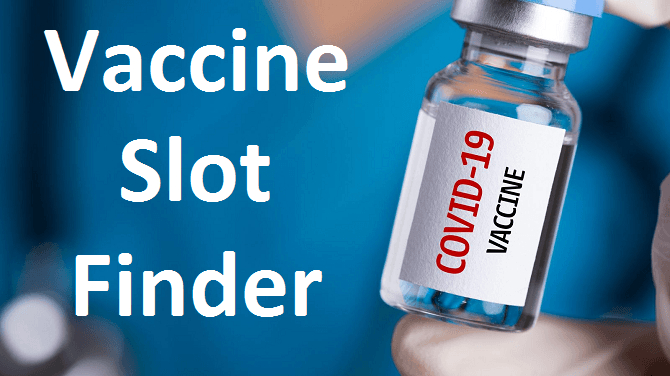 What To Keep in Mind During Vaccination?
Make sure you have a full-fledged breakfast before two hours of the vaccination.
Do not forget to hydrate yourself properly.
Take your Aadhar card along and do not forget to put your mask on.
Return on the specified date for the second dose without failure.
The Bottom Line 
Finding an available vaccine slot today is no cakewalk. Today, lakhs of people are still unvaccinated due to the hustle and bustle around them. Somedays, the vaccine slots are unavailable, and other days, people steal those spaces to get vaccinated before everyone else. That is why these vaccine finder apps were created to help you get vaccinated and find your slot without any delay amidst this chaos. So, do not forget to make the most of them and ensure your health on time. Hurry up because the slots are getting occupied soon. We promise; it will be helpful for you without any second thoughts.