Are you craving something tasty yet healthy? Or looking for an ideal dish to satisfy your tummy in no time? If yes, then you must try tempeh spring rolls. This Asian-inspired dish is a perfect meal for your brunch or evening snack. However, before we dive deeper and discuss the ingredients and recipe to make tempeh spring rolls, let's get to know what tempeh actually is.
So, before your mouth starts watering, let's get started.
What is Tempeh?
Packed with a lot of nutrients and protein, tempeh sometimes called tempe is a well-known traditional Indonesian food item prepared using fermented soybeans which looks like a cake. Whether you are a fitness freak or health fanatic, vegetarian, vegan, or non-veg lover, tempeh makes one of the best protein-rich substitutes for meat.
From providing support to your bones to boosting gut health, managing cholesterol, providing an adequate amount of protein, and a rich source of protective antioxidants, incorporating tempeh offers a whole host of benefits to your overall well-being.
This protein-rich food has a firm texture and nutty, savory, and earthy flavors, making it a great meat alternative and ideal for plant-based diets. From salads to stir-fries and burgers, there are a wide array of dishes that you can prepare using tempeh as a key ingredient. And one such yummy dish is tempeh spring rolls.
Keep reading the blog to know about these scrumptious spring rolls.
An Overview of Tempeh Spring Rolls
Who doesn't like spring rolls? Spring rolls are one of the favorite foods among kids, teens, and youngsters. The rolls are generally prepared using different ingredients like noodles, vegetables, tofu, paneer, etc. 
However, in tempeh spring rolls, tempeh is the main ingredient. Tempeh spring rolls are a popular and flavorful dish in many Asian countries. You can serve them with a dipping sauce like a peanut or hoisin sauce and can enjoy them as an appetizer or main course.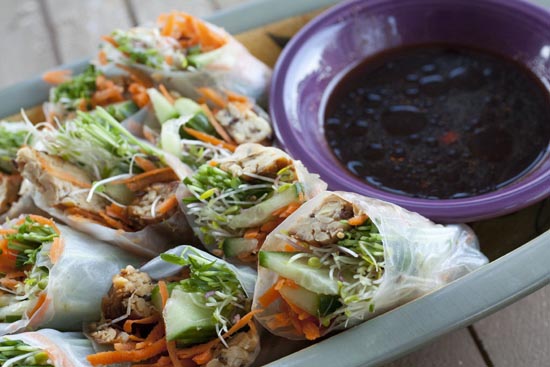 How to Prepare Tempeh Spring Rolls
You need not be an expert home cook or experienced chef to prepare delicious tempeh spring rolls. You can easily prepare this dish using a few ingredients and that too without any relevant cooking experience. There are different recipes for tempeh spring rolls. You can customize the recipe as per your taste and preference.
One of the recipes for tempeh spring rolls is discussed below.
Ingredients 
For tempeh rice paper rolls
Tempeh

Low-sodium tamari sauce 

Rice paper sheets

Carrots

Cucumber

Red cabbage

Baby spinach

Ripe avocados 
For peanut butter sauce
Smooth natural peanut butter

Low-sodium tamari sauce 

Fresh lemon juice

Chili flakes

Rice malt syrup 

Coconut milk
Recipe
The first step is to prepare a dipping peanut butter sauce. Mix all the ingredients like peanut butter, tamari sauce, lemon juice, chili flakes, rice malt syrup, and coconut milk in a coconut bowl until combined properly. Keep the bowl aside

The next step is to take a pan and heat it over a medium flame. Add tempeh and fry it with a teaspoon of low-sodium tamari sauce and let it cool for a while

In the meanwhile, thinly slice all your vegetables and avocado in such a way that all of them perfectly fit into the rice paper rolls

Dip your rice paper sheets in cold water and put them on a chopping board. Avoid dipping them in water for a longer period else they might break

Place your tempeh, vegetables, and avocado in the middle of the rice paper sheet

Cautiously fold the bottom, forward, right, and left sides of the rice paper sheet over the filling 

Slice the roll into two halves

Serve hot with peanut butter sauce
This recipe for tempeh spring rolls is amazing and serves as a perfect side meal to nourish your tummy.
Also Read : https://dailydialers.com/food/bean-and-vegetable-burritos/
Tips to Make Tasty Tempeh Spring Rolls
Tempeh spring rolls make a delicious and nutritious dish that you can enjoy as a meal or snack. Some of the tips to prepare the best and most tasty tempeh rolls are listed below.
To add more flavor and taste to your dish, you can consider marinating the tempeh by using a lot of ingredients like sesame oil, soy sauce, miso tamari, almond butter, etc. 

After marinating the tempeh, make sure to pan-fry it until turns golden brown and crunchy on both sides.

Make sure to use fresh vegetables of your choice, including carrot, lettuce, mint, and cilantro.

It is recommended to use fresh rice paper sheets.

To properly assemble the rolls, dip the rice paper sheets in cold water and place them on a flat surface. Add all the ingredients in the center of the rice paper. Fold all the sides of the rice paper over the filling, and then tightly roll it up. 
So, what are you waiting for? Try these tempeh rice paper rolls that are bursting with flavors and textures and let us know how they taste.