Craving a Mexican dish? Looking for delicious Mexican food to satisfy your hunger? If yes, then you must try Taco Bell Chalupa Supreme. Loaded with many ingredients, Chalupa Supreme is a tasty and super delicious Mexican snack that includes a deep-fried dough consisting of a lot of ingredients. Chalupa is one of the most popular and customer-favorite Mexican dishes available at Taco Bell. But what is it exactly? Keep reading the blog to get an overview of Chalupa.
An Overview Of Chalupa
The word "chalupa" is derived from the Nahuatl word "chalupalli" which means small boat. Chalupas are traditional Mexican deep-fried, boat-shaped bread generally stuffed with salsa, lettuce, and cheese.
The bread of chalupas generally consists of thick flour or corn tortilla shell that is crispy on the outside and soft on the inside.
An Overview Of Taco Bell Chalupa Supreme
Chalupas are part of the regular menu of Taco Bell. Looks like a boat, Taco Bell Chalupa Supreme consists of a crispy corn tortilla filled with ingredients like lettuce, seasoned beef, tomatoes, cheddar cheese, and sour cream just to name a few. Deep-fried chalupas are then served with salsa.
You can order chalupas in different sizes like regular, mini, and mega. Whether you want to satisfy your evening snack cravings or enjoy a full meal, chalupa supreme caters to your food requirements in the best way possible.
You can even try the recipe for Chalupa Supreme at home without the need to visit Taco Bell.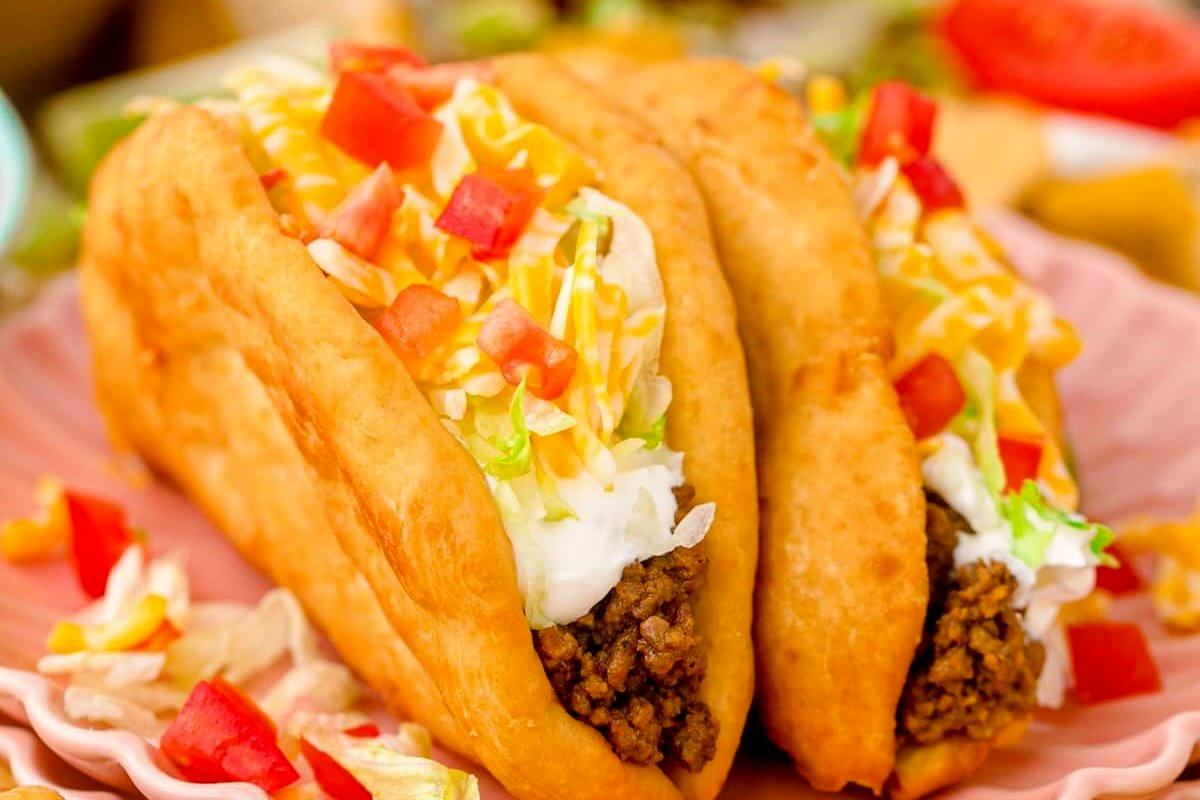 Recipe Of Chalupa Supreme 
It is super easy and quick to prepare Chalupa Supremes at home without comprising the taste and quality of the dish.
Ingredients
You will need two batches of ingredients to prepare Chalupa Supremes at home. The first batch of ingredients is for a chalupa shell. The second set is for the stuffing of the chalupas. 
For the chalupa shell, all you need is
All-purpose flour

Baking powder

Salt 

Oil

Milk
For the toppings, all you need are the following ingredients
Lettuce

Cilantro

Chopped black olives

Cheese

Sour cream

Refried beans  

Guacamole

Pico de Gallo
You can choose the toppings as per your choice, If you are vegetarian, opt for roasted veggies. And non-veg lovers can opt for seasoned beef.
Recipe
To make super tasty chalupa shells at home, follow these steps.
To prepare the dough, mix flour, salt, and baking powder well altogether

After mixing all three ingredients properly, add 2 tablespoons of oil and mix it well

Add some milk and knead the dough until it is tough and dry

In case it is too dry, add a small amount of water and knead the dough until it is softened

Once the dough is ready, cut it into equal parts and then use your hands to roll each part into a ball

The next step is to place each ball on a floured surface and use a rolling pin to roll them

Use a fork to pin a few holes in the dough 

Heat some oil in a pan over a medium flame

Place one disc into the hot oil and eventually, it will puff up slightly 

Flip the disc and gently fold it in half so that it looks like a taco shell

Cook both sides until they turn golden and crispy

Put the shells on paper towels 

Stuff your shells with desired toppings like lettuce, cilantro, sour cream
refried beans, guacamole, black olives, cheese, and Pico de Gallo
Serve your Chalupa Supremes hot, fresh, and crispy 
The above-mentioned recipe of Chalupa Supreme is incredibly easy and tastes as delicious as the restaurant version. Crispy and soft, these shells are a perfect blend of textures and flavors. And best of all, you can customize them as per your taste and with lots of different toppings, making it an ideal Mexican snack to satisfy everyone's hunger anytime.
However, consume Chalupa shells fresh to enjoy the best texture and flavors.
Tips To Make The Best Chalupa Supremes 
Follow a few tips to make the best chalupa shells possible.
Rather than folding, you can consider keeping the shells flat and putting toppings on top of it.

Don't knead the dough for a longer period else it will become tough and dry.

Make sure to add baking powder to make it look puffy and give you a soft texture on the inside.

Serve the chalupas hot and crispy.

Heat the shells over a medium flame, high flame will burn them.

Fry your shells just a single time.
Closing Words
Above all, you can easily store and refrigerate your shells for a week. However, make sure to store them in a bag or an airtight container. Whenever you want to eat them, just heat them in the microwave for about 5 minutes or until they are warmed.