From boosting brain power to improving heart health, and supporting healthy aging, Salom offers a whole host of benefits to your physical and mental well-being. Loaded with a lot of nutrients, it works wonders for your overall health. Also, it is one of the most flexible and versatile ingredients which you can use to make hundreds of healthy recipes like Caribbean-style coconut curry salmon, baked salmon, salmon sandwiches, and air fryer salmon just to name a few. Easy and fast to cook and prepare, you can customize the salmon recipe as per your taste and food requirements.
Whether you are a fitness freak or a non-veg lover, salmon caters to the needs of almost all types of food lovers. It won't be wrong if we say Salmon is the best and healthiest fish to eat on the planet. Protein, fat, and Vitamin D, you name it, and salmon have got everything nutritious. 
Are you a salmon lover? Looking for the perfect salmon recipe that is healthy yet delicious? If yes, then you must try coconut curry salmon. Yes, you read that right!
From being nutritious to lip-smacking taste, flavorful, and great textures, coconut curry salmon is a comfort food that can easily satisfy your taste buds.
We are not done yet! There is a lot more about this salmon dish that you may not know.
In this comprehensive guide, we have mentioned everything from the meaning to the ingredients and recipe for coconut curry salmon.
So, before your mouth starts watering, let's get started.
An Overview of Coconut Curry Salmon
The salmon and coconut milk is an ideal combination of taste and flavors. Salmon cooked in coconut milk gives you a full dose of vitamins and other nutrients. You can customize the dish as per your choice. You can make it as spicy as you want. The coconut milk and spices blend very well together, giving you a rich and not heavy curry or sauce that tastes great.
Plus, the salmon in the milk keeps it very tender, soft, and flaking. However, please note that just like any other milk, coconut milk also reduces on a lot of heat so even if you feel like it is too much, it might not be.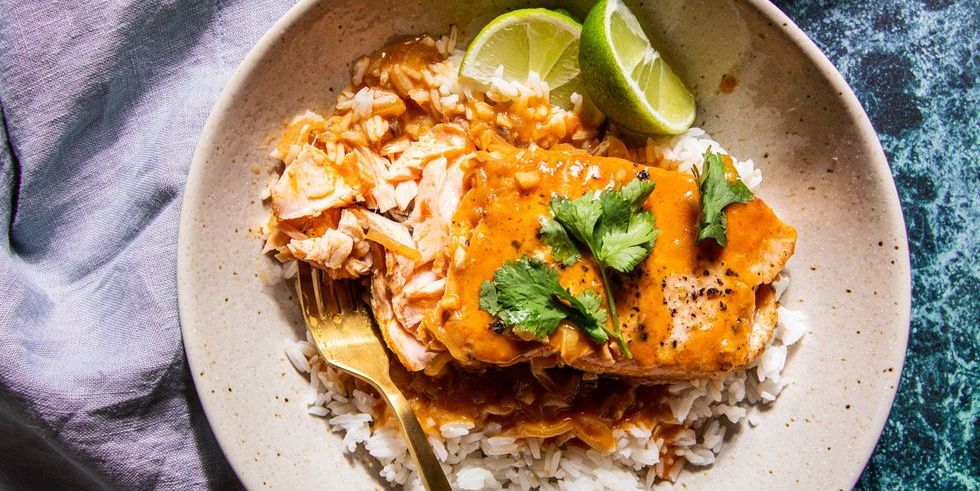 Keep reading the blog to know the ingredients and recipe for coconut curry salmon.
How to Make Coconut Curry Salmon?
You need not be a pro chef or expert home cook to make a perfect dish of salmon. You can prepare this easy-peasy dish with just a few ingredients in your kitchen. Whether brunch or evening food cravings, you can make this dish whenever you want. So, let's get started.
Ingredients 
Fresh salmon cut into 4 pieces

Olive oil

Butter

Medium chopped onion 

Minced garlic

Thai red curry paste

Carrot matchsticks

Chopped broccolini 

Fish sauce (optional)

Full-fat coconut milk

Brown sugar

Lime juice

Chopped fresh basil 

Chopped fresh cilantro 

Salt & pepper to taste
Recipe
The first step is to cut the salmon into 4 equal parts

Dry both sides of the salmon with a paper towel and season it with some salt and pepper

Add the olive oil and butter to a pan and heat it over a medium flame

Add carrots and broccolini. Let them cook for a few minutes 

Cook both sides of the salmon for a few minutes. In case your fish is getting stuck at any point, heat it extra to leave it naturally 

Transfer the salmon to a plate. If you don't want to eat the salmon skin, slide it off before adding it back to the pan

Take some oil out of the pan and leave about a tablespoon of it in there

Add chopped onion to the pan and saute it for some time until turned light brown. Add some curry paste and garlic and cook all the ingredients for one minute until combined

The next step is to add coconut milk, fish sauce, sugar, carrots, and broccolini. Let it gently cook for about 5 minutes or so. Cook the veggies until tender and crispy

Add the lime juice and salmon 

Add salt and pepper as per your taste

Let it cook for a while and top it with basil and

cilantro 

Serve hot and crispy with rice and lime wedges
Coconut milk, curry paste, fish sauce, lime juice, and a little sugar all make a perfect combination for your tastebuds. You can add more ingredients like peas and asparagus as per your choice 
In The End…
Above all, this salmon coconut curry recipe is flavorful and comforting. However, make sure to use thick coconut milk for the best taste. And instead of fish sauce, you can consider using soy sauce.
So, what are you waiting for? Try this recipe and share it with your buddies and family.