Do you have a knack for baking? Or looking for the best dessert recipe to satisfy your taste buds? If your answer is yes, then you must try the banana upside-down cake. Whether a birthday party or a marriage anniversary, you can prepare this cake to make your occasion more special and memorable. It is a perfect dessert for your sweet tooth. 
In this detailed blog, we have shared an overview, recipes, and many other details about banana upside-down cake. So, before your mouth starts watering, let's get started. 
An Overview of Banana Upside-Down Cake
Whether you are craving for pancakes or want to experiment with a new cake recipe, the banana plays one of the key roles to make any dessert recipe super delicious and yummy. And this rings true in the case of the banana upside-down cake too. 
The cake is the perfect blend of caramel and banana that makes it absolutely addictive, flavorful, and super yummy. In fact, this ideal combination offers the iconic flavors that you just get drabanana upside-down cakewn to. The moist texture, lip-smacking taste, and great aroma—all make this cake your favorite dessert.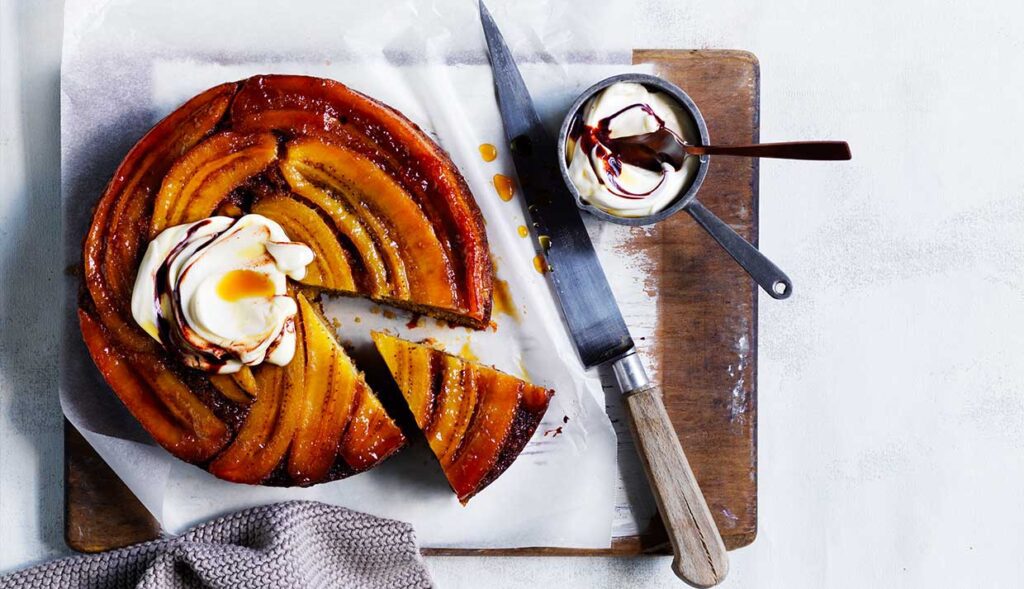 How to Make Banana Upside-Down Cake
Recipe 1
It is very easy to make this cake recipe at your home. All you need is the following ingredients listed below.
Ingredients 
For Topping
1 cup brown sugar

6 tablespoons of melted butter

2 thinly sliced bananas

2. For Cake
1 and 1/2 cups of all-purpose flour

1/2 tablespoon of baking soda

1 tablespoon of baking powder

Pinch of salt

3/4 cup of brown sugar

1/4 cup of granulated sugar

2 medium-sized mashed bananas 

1/2 cup of milk

1 tbs of vanilla

1/3 cup of oil 

2 eggs
Baking Instructions
Follow a few instructions to master the recipe for a banana upside-down cake.
Preheat your oven to 350

Apply oil to grease a springform pan 

Mix all the topping ingredients like brown sugar, melted butter, and sliced bananas properly in a bowl until combined well 

Put the mixture into the greased pan and press it into the bottom 

Layer banana rounds on top of the mixture

Mix all the dry ingredients in a large bowl and whisk together

Add the remaining ingredients and mix all properly

Pour the batter on the top of brown sugar and banana mixture

Bake the batter for at least 45 minutes or until set

Leave the cake in a pan for about 5 minutes so that it cools off naturally

You can top off the cake with caramel (optional)

Place the cake on a serving tray
Tips to Make A Perfect Banana Upside-Down Cake
Follow a few tips to make this tasty and yummy banana upside-down cake.
Make sure to use a 9″ round spring-form pan to avoid batter spilling over

Mix brown and melted butter properly until combined together before placing the mix on the button of the pan

You can use ripe or over-ripe bananas to make this cake. The visible banana will be baked and caramelized, so in case bananas are already super soft it is ok

You can caver springform pan with tin foil in case you happen to have sugar leak out 

Before placing it on a plate, let your cake rest and cool off naturally for about 5 minutes 
Recipe 2
Ingredients
For Topping
80g unsalted butter

150g light

muscovado sugar

½ tsp vanilla bean paste

4 large-sized bananas

2. For Cake 
240g plain flour

2 and a half tsp baking powder

1 tsp cinnamon

300g golden caster sugar

½ tsp ground ginger

120g unsalted butter

3 large eggs

150ml soured cream
Baking Instructions
Pre-heat oven to 180C

Lightly grease a deep round cake tin

Line the base with baking parchment

Mix the butter and sugar in a saucepan and cook them over a medium flame until melted and combined

Add the vanilla and combine all ingredients together

Pour the caramel into the greased cake tin and spread it evenly

Slice the bananas in half and place them on top of the caramel

Put all the cake ingredients in a large bowl and add a pinch of salt

Mix all the ingredients very well until the batter is smooth and consistent

Place the batter on top of the bananas and spread it evenly

Bake the batter in the oven for 55 mins-1 hr 

Before turning the cake onto a plate, let it cool in the tin for 10 mins

Serve warm 
Let's Wrap Up
Hopefully, you liked the recipes. In case you have any other easy-peasy recipe for the banana upside-down cake in your mind, do let us know in the comments.
Till then enjoy baking.