Your A/C XXXXXX is credited with Rs XXXXX on dd/mm/yy. Available bal: XXXXXX info: Salary PAYMENT- By Salary 
We all strive and put best efforts into our respective jobs and one of the major motives behind has to be receiving this message every month. Now, employers are well-aware of the legal consequences of not paying their employees but not many know the importance of payslip. That means employers should not just pay their employees correctly but also ensure it is recorded accurately by providing them with a salary slip or payslip.
So, here are some important obligations one must know when it comes to providing payslips: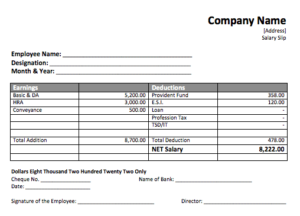 What Are The Duties of Employers?
Operating and overseeing a business is not the only duty of employers. They hold numerous duties that should be fulfilled at all times. One such obligation is providing employees with their payslip. It should be provided in a manner that is easily accessible and understandable to them. 
Unlike before, it is much easier today to provide a payslip. Using technological advances, HR managers can both make and send it in just a few clicks. So, no matter what medium one uses, issuing payslip is extremely important. 
Now, different companies use different payslip formats. Again, hundreds of formats are today available on the internet. Nonetheless, a company should use the following details: 
Name of the employee

The total pay 

The date of payment 

The total pay period 

Deductions 

Name of the company and employer
What Are The Duties of Employees? 
Employees are also equally entitled to certain obligations when it comes to receiving a payslip. First thing first, every working individual is eligible for a salary slip. Second thing, one must provide accurate information/details to his or her company. In case an employee does not get his or her payslips, then it is his or her responsibility to carry this issue into the employer's consideration. 
For employees, payslips come handy in the following times:
Calculating Income Tax

To access government facilities

To apply for loans
With many complicated terminologies, often that small salary slip becomes really confusing to grasp. And most employees overlook those doubts and even forget it completely. But employees should never keep their doubts with themselves and always reach out to their HR managers to get answers to their questions/queries. 
What Are the Consequences of Not Providing Payslips?
Employers who fail to provide their employees with payslips will have to face some serious consequences along the way. 
An employer may even receive a penalty known as an infringement notice from Fair Work Inspectors if he or she:
Does not include the right details on employees' payslip

Does not issue payslips at all or within 1 day after the payment date. 
Needless to say, it is completely unlawful to provide payslips that are false or misleading. As a result, a company as a whole will have to suffer for a long time. Besides, it can also lead to conflicts related to remuneration in the workplace, thus impacting the overall work environment. 
How can an employer deal with a payslip error?
An HR manager or employer should avoid errors in the first place. Outdated tools are prone to errors. On the other hand, HR software allow managers to carry out every HR task with zero error. From processing payroll to generating salary slip on time, such software is an ultimate way to prevent mistakes.
And if an employee comes up with an error in his or her payslip, employers should deal with it as soon as possible. One of the best ways to deal with such an issue is by talking. Have an effective conversation with them and give them a valid reason for the error. Once they understand, apologize for the error, fix the same at the earliest, and avoid making such problems in the future, too.
We hope this blog helped you to acquaint yourself with the importance of providing and processing a payslip.