Spring has started knocking at the door and it's high time to say goodbye to sweaters, cardigans, and other winter essentials. Spring offers you the perfect chance to upgrade your wardrobe with some fresh and cool stuff while welcoming Summer edits. Are you looking for the best Spring 2023 fashion trends to dominate the fashion world? If yes, then we have got the best solution to your query.
In this all-detailed bog, we have curated a list of cool and smart Spring 2023 fashion trends for women that will make you look beautiful and attractive.
So, let's dive in.
Stylish Spring 2023 Fashion Trends For Women 
Gone are the days of layering and wearing warm clothes, it's the season to style up in comfortable outfits that scream both elegance and fashion. Listed below are some of the top Spring 2023 fashion trends that you must try this season.
Oversized denim is a wardrobe staple and can spruce up your personality in one go. You can wear this all-purpose clothing piece with loose jeans, boyfriend shorts, or long-line shorts. It is an excellent casual outfit that you can dress up as per your mood and occasion.
Available in different colors, patterns, and textures, oversized denim is best known for its versatility and unquestionable look. The key to slaying this trend is to opt for a piece that is slightly larger than your actual size.
Cargo pants are something you cannot say no to. These extra comfortable and comfy pants are considered one of the hottest Spring 2023 fashion trends.

They're functional, stylish, and provide extra storage to keep your wallet, phone, or cards.
You can pair these cool pants with a blouse, tee, top, or t-shirt. Since these pants are available in different colors and fabrics, you can feel free to experiment with your style.
Crop top never fails to impress. It is an ideal wardrobe essential to make a fashion statement wherever you go. This cool Spring outfit is perfect to show off a bit of your midriff and look attractive.
From plain to patterned, sleeves to sleeveless, and floral to embroidered, there are different styles of crop tops available to cater to the taste of every fashion lover. This versatile piece can go with just anything in your closet ranging from high-waisted jeans to shorts, and skirts.
Sequins and metallics are back in trend. These are perfect to add some glam and shine to your Spring-inspired wardrobe. Whether a housewarming party or an evening date with your loved one, a glittery dress or top can make you stand above the crowd.
Whether a shimmer top, a metallic dress, or sequin embellishments on jeans or jackets, there are infinite ways to sparkle up your look. This trend is all about shining above everyone and making a fashion statement. So, don't be afraid to make experiments and go bold.
You can choose any bright and shimmering colors like gold, silver, and even lively rainbow colors to spin heads wherever you go.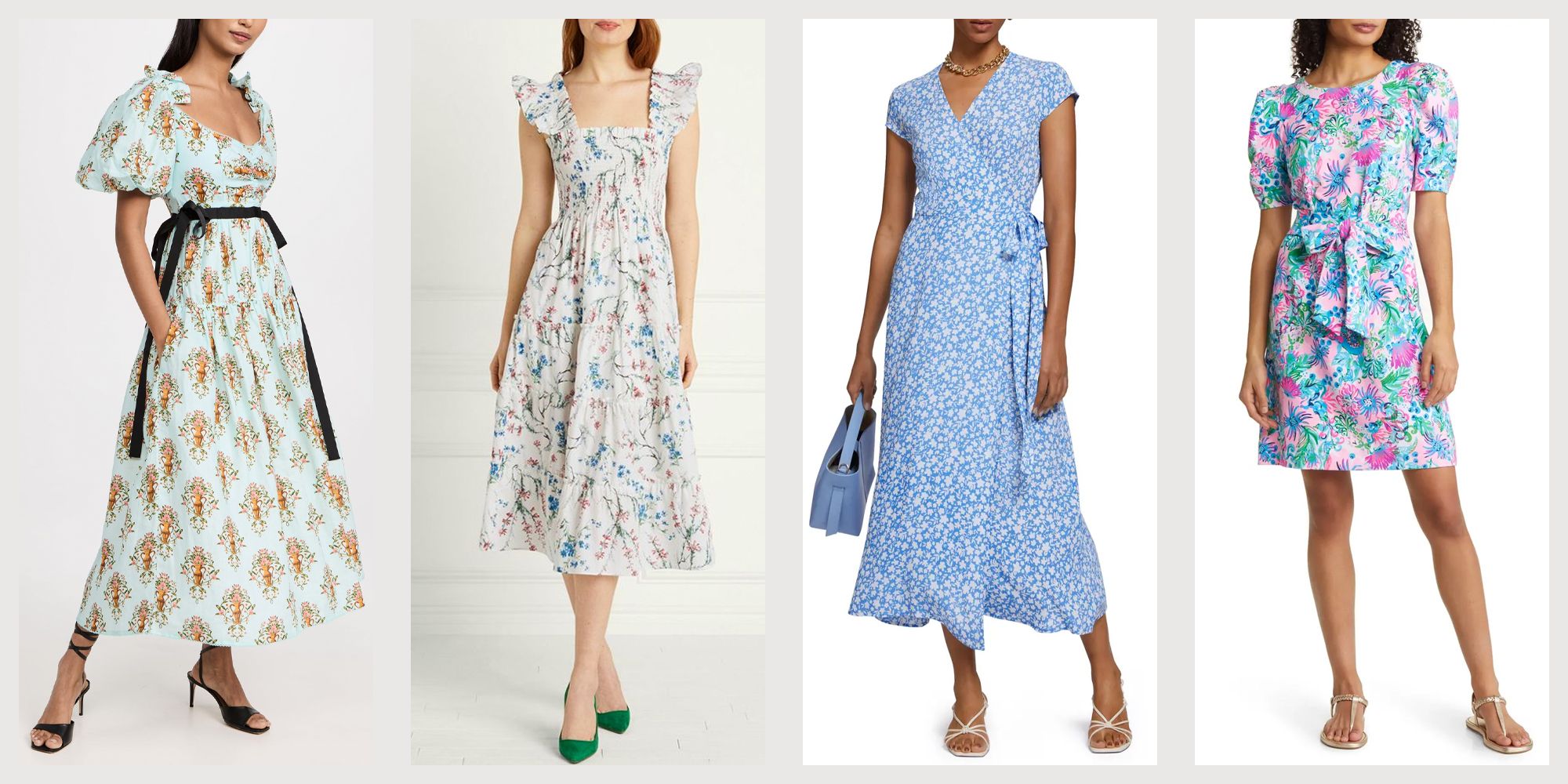 Whether Summer or Spring, floral dresses make a flawless outfit for any season. Be it an office lunch, family gathering, or cocktail event, you can wear a floral dress for any event and look fabulous.
Whether keen length, maxi, or full-length, you can choose to wear any floral dress as per your style and personality. The ones with larger prints and brighter colors are high in demand.
Fringe is another one of the most popular Spring 2023 fashion trends. From embellished jackets to skirts, jeans, tops, and bags, there are multiple ways to rock this trend. Fringes add a punch of fun, color, and twist to your normal outfit plus some visual effect and texture. 
Whether a plain t-shirt or basic jeans, fringe can make any dull outfit look better and more stylish.
Corsets are making a comeback in 2023. This unique piece of clothing gives you the flexibility to show off your curves and look bold.

When paired with high-waisted jeans or a skirt, a corset can create the illusion of an hourglass shape. You can choose from delicate lace or leather versions depending on your choice to add a touch of drama to your look. 
Closing Words
Apart from the above, there are multiple Spring 2023 fashion trends to choose from. However, opt for the one that caters best to your comfort, personality, and taste.