Do you always wear your diamond jewelry? If yes, then you should know that even though diamond is the hardest substance on earth, you should take care of it from time to time.
Follow some tips to keep your diamonds shining bright. Whether you wear them every day or storing them, they deserve all the care you can give.
If you want to know the tips to keep them shining bright, check the list below!
1. Clean Regularly
Dirt and oil are the primary enemies of your diamonds. If you have a diamond engagement ring, then you probably wear it almost every day. The most important thing to do is to clean it regularly even if it's fancy colors like blue or Argyle pink diamonds.
When cleaning the stones, make sure that you're not using harsh products. It's best if you soak them overnight, then wipe them with a cotton cloth. Use a soft brush to remove tough dirt on the edges.
2. Avoid Touching Often
Avoid touching the diamonds to prolong their shine. When you remove your ring or necklace, make sure you hold its band or the lace. Your hands surely have oils that can ruin the quality of the diamonds.
Similarly, if your jewelry gets stuck on your clothes, untangle them slowly to avoid scratches on the diamond. It can also damage the part of the diamonds with prongs holding it. That's why you should treat your diamonds like a baby to protect and help them to last long.
3. Take off When Cleaning the House or Applying Cream to Your Skin
Do you remove your diamond jewelry when you work with products that can damage your diamonds? Well, you should! Here are some instances when you need to save your diamond jewelry:
Taking a bath

Applying cream and other products to your skin

Spraying perfume

Using hair products like hairspray

Cleaning the comfort room and the house

Cooking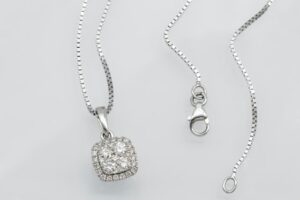 Other than removing your jewelry, you can also wear protective gear like gloves. It's important to keep your jewelry away from harmful chemicals to avoid discoloration and other damages.
4. Be Cautious When Altering
Want to give your jewelry a fresh look, or do you just need to adjust sizes? Whatever your goal is, make sure that you're taking extra precautions when altering your jewelry.
You should have it altered in the shop where you purchase it, or even just its other branches. If that's not possible, try choosing a shop with good reviews, and accepts signature jewelry. In addition, you should remind the jeweler of the details you don't want to be changed.
5. Place on a Designated Storage
After cleaning your jewelry, wrap them in tissue paper to absorb all the moisture. After that, you can store them in a cool dry place unless you're going to wear them again. Make sure to separate them from those that are not diamonds.
Do you often remove your jewelry, but wears them again after a while? Then you should place jewelry dishes around your house, where you usually remove them like in the kitchen and the comfort room.
6. Have it Checked
Even diamonds need checkups. You need to visit your jeweler at least twice a year to make sure that everything is in the right shape. They will cheque the prongs and other parts of your jewelry so that your diamonds are secured.
Aside from having it checked, they can also polish the jewelry. They have professional products and equipment to avoid damaging your precious stones and their metals.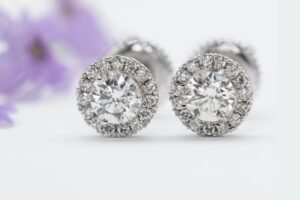 7. Secure an Insurance
The moment you leave the store with your new diamond purchase, you should go to the nearest insurance center to have it protected. Nowadays, you'll never know when or where you'll end up being robbed. That's why it's best to have insurance.
8. Don't Lose it
The first thing you can do to take care of your jewelry is not to lose it. From there, you can go ahead and do all the things mentioned above. Aside from not losing the entire jewelry, you should also cheque the prongs often (of course without touching the diamonds) to make sure that the diamond is still intact.
Furthermore, you should always put some effort to place the jewelry in its designated box whenever you remove them so that you can easily locate the pieces.
Do you have colorless or fancy-colored such as yellow or Argyle pink diamonds? Even if you just have a carat or less, every diamond is worthy of being taken care of. Share with us your diamond care routine by leaving a comment below!