The most complex part of moving to a new house is to decorate your new house. You should decorate your house in such a manner that it reflects your personality and taste. There might be a chance that the new house might look quiet and cold. This is because it's bare. If you want to give your house a feel of home, then it's essential to decorate it in such a manner that your house has warmth and beauty in it. Today you will get the best way to decorate your house, do read it out!!!!!
Paint Before the Move
The prime step towards the decor of the house is to paint your house beautifully. This step should be done before shifting. If you will do so, then you can ease your work as movers and packers will put things directly on the place. If you are thinking of doing the paintwork after the shift, then your work will be doubled. Can you think of shifting your heavy sofa or other heavy goods? If you want to decorate and set your new house with ease, then do it before shifting your goods.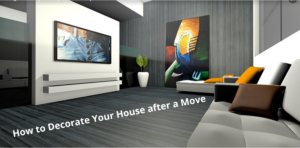 Add Wallpaper
After the painting is done, the next step to beautify your walls is to use graceful wallpapers. Pretty wallpapers simply enhance the whole style of the house. If you are someone who is crazy for trends and follows them, then you would surely know the relevance of these wallpapers.
They are so in these days that everyone is adding them to their walls. There are multiple ways of having wallpaper. You can either paint and create beautiful designs or themes on the walls or just simply paste the ready-made wallpapers. Try to choose a bold pattern for the walls it will add weight to the whole decor.
Add Curtains
Beautiful curtains just add to the look of the whole house. Install them on the windows and feel the change. A nice and sober curtain will enhance the look of the whole interior. Try to make a theme in this. Don't just randomly pick different curtains and set them all around your house. Choose a proper theme and try to install the curtains in a pattern. Try to use sheer white curtains which have a contemporary print. It will draw more attention to the whole decor. A nice curtain adds cozy touch and warmth to the whole place.
Install New Light
Can anything be better than wonderful lighting? If you want to give a bright touch to the new house then install light fixtures at your house. If you want your house to look professionally decorated then create a light theme here as well.
You can work on several themes for example you can hang a majestic chandelier at the space where you dress up.  Other than that you can have starburst fixtures in the ding room, it will make a trendy retro look which is in a trend always.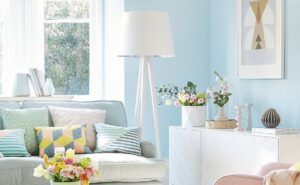 Select a Colour Theme
In order to decorate your new house, decide on a colour theme for the whole decor. This colour theme is not only valid to the lighting or curtains or decor, rather it applies to your wall paintings as well. At the time of painting, ask your painter to paint in a colour-coordinated manner. You can choose some classic colour combinations such as off-white and golden and many more.
This will add up to the whole decor. This goes with everything from cushions to sofa covers to many more. Just try to have a specific theme for your whole house. Leaving the old space and moving to a new one is really nostalgic, but a good soothing environment heels everything.
Try Not to Compare
If you want your new house to stand out and be unique, then don't compare it with others. Try to make each and everything different from others. As innovators are the ones who never compare as they are so busy in their thoughts that they have no time to waste in comparing things with others. Make your home so comfortable that even stranger feel that this is their own house.
Create a Family Wall
Can anything else beautify your house more than the happy pictures of you and your family members? Create a beautiful memory wall in the hall or sitting area. Put the pictures there and see the change. If you can show your creativity here as well. You can add fairy light to beautify the whole wall. The choice and way are completely yours.
Conclusion
These were some ways by which you can decorate your house after a move. There is a bit of handwork that requires. But that's completely acceptable, as the moment you see your house after the whole decor is done can't be expressed in words. And also hire house shifting service in India.